Growing up in god's word. together.
The elementary years are full of growth and we want to partner with you on this journey! Led by Kimberley McElroy, First Kids ranges from Kindergarten through 6th grade. Our kid's ministry is focused on teaching kids how to have a life-changing relationship with Jesus through developmentally-appropriate biblical teaching, engaging activities, meaningful relationships, and more!
We'd love for you to join us! Follow the link below for more information, or check out our latest events and news to keep updated with what these kiddos are doing!
Bible Drill is a fun way for your preteen (3rd-6th grade) to memorize Scripture, gain confidence, and become comfortable with using their Bible – all through fun, games, and competition!
Click the logo above for more information!
3rd-6th Grade, July 26-30
We need help. We need more than a how-to guide, we need an example. This summer at CentriKid Camps, campers will discover what it means to be imitators of Christ. Jesus is the ultimate example that we should follow as Christians and we will be taking a look at scriptures that help us know Jesus and walk as Jesus walked.
Click the logo above for more information!
The preteen years are a special (albeit challenging) time! As your kids hit puberty and begin acting more like teenagers, they will begin to think more critically about the world around them. They will ask deeper questions about who they are and who they want to become.

We want to reach your preteen in a special way as they prepare to enter the youth group in 7th grade! This is why we are launching our third summer of Project 56, an annual summer Bible study for kids who have just completed 5th and 6th grade! We will meet four times throughout the summer in The Underground (underneath the gym) on Wednesday nights from 6 pm to 7 pm.

During this time, we will hangout, play games, worship, and study the Bible on an age-appropriate level with a format that is similar to what your preteen will encounter when they join the youth group in 7th grade. Matt Parker, our Minister to Students, will join us so your preteen can get to know him too!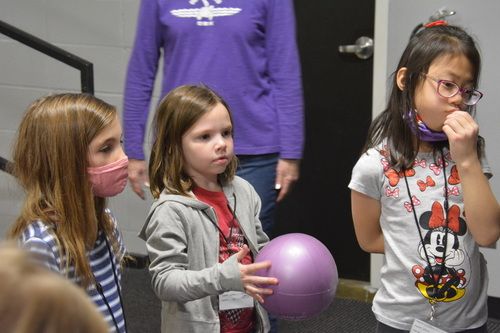 First Arts consists of instruction in a variety of art forms for children in Kindergarten through 6th Grade. Music reading and instrumental music, piano, and dance are represented in classes ranging from beginning to performance level.

Our mission is to provide children with opportunities to learn and develop lifelong art skills with an emphasis on personal and corporate worship.


Small Groups
10-11 am

First Kids @ Night
K-2nd Grade
5-6:30 pm

Bible Drill
3rd-6th Grade
5-6:30 pm
Follow First Kids on Social media